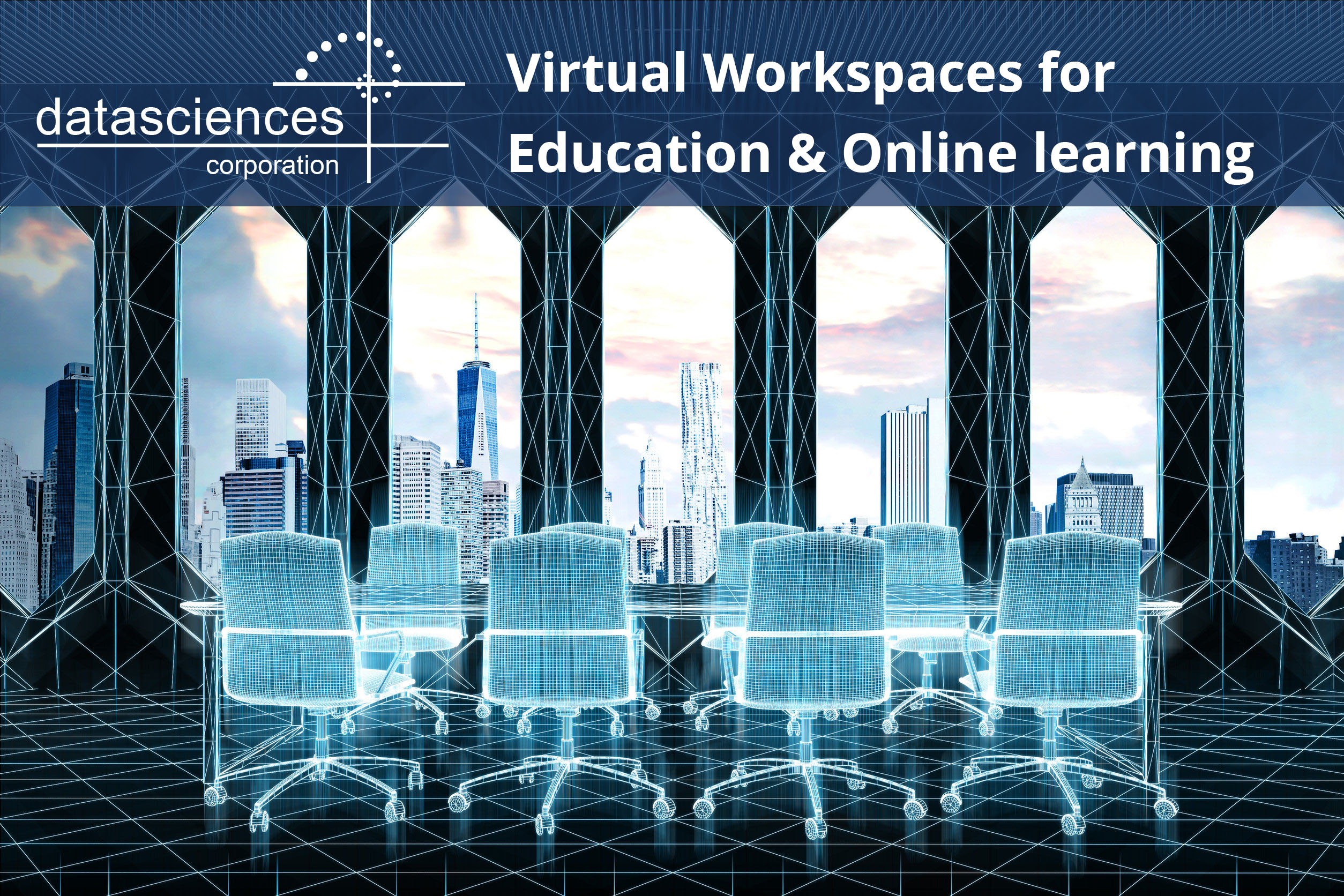 Data Sciences Corporation is always here to lend a helping hand. We feel that during these times South Africa's education systems are struggling. Data Sciences Corporation will address how we can improve education via virtual workspaces and online learning.
During these challenging times we find ourselves and so many business dynamics come into question. How can we better communicate? How can we all stay connected when we are the furthest from that? The challenges of working from home are immense but I wanted to talk about one topic in particular that I find is immensely important for the future of our youth.
I have a younger brother aged 10 who goes to Crawford and is currently attending online learning. They face continuous challenges as they are moving from one software to another. This not only makes the admin and staff frustrated but it slows down the education and of course the lack there off.
My mother works for a highly accredited internationally renowned institution who doesn't allow their staff to work from home due to their software and hardware constraints. 
We all find it challenging to go from the conventional cup of coffee in the boardroom to a million online teams meeting but wait what do we choose? Teams, Zoom, Skype etc and the digital world continues to confuse us all!
I am going to address the topic of online learning and how virtual workspaces can contribute to a more successful business!
The one million dollar question will be answered, but before it is, let's all understand the reasoning behind the shift from traditional learning to online learning. I find that it is important to acknowledge the state we are in and stop falling back into "traditional ways of working" that are currently one of the biggest reasons for failed businesses in South Africa. Rather than fight the current challenges we face, we should embrace change and the future and the possibilities. 
"South Africa has one of the highest business failure rates in the world but we are seeing that working with existing businesses and driving them into a more sustainable growth model creates more jobs and a greater contribution to the economy."
How can Data Sciences Corporation help you and your business enhance operations during these challenging times? Or the better question is: How can businesses and education systems develop their learning so that our future generations aren't affected.
Data Sciences Corporation partners up with the world's leading IT, technology, hardware and software companies in order to provide South Africa with leading technology solutions that solve future problems!
How can we help and bring all your software and content management systems home with you?
WHY SOUTH AFRICA HAS RESORTED TO ONLINE LEARNING?
IT Web addresses this topic and plainly writes how "online learning must be central to SA's future education system"
"Online education must be taken seriously, and decision-making stakeholders in the education system should, at the very least, consider blended models of teaching and learning. This is the view held by industry experts, speaking about the future of online education or online schooling in the context of SA."
"Last year saw technology and education become increasingly integrated as governments across the globe announced COVID-19-induced lockdowns. With the education old guard turned upside-down, South African learners, like many across the world, had to resort to remote learning to keep up with the academic year"
 By: Simnikiwe Mzekandaba, IT Government Editor.
Regarding a complete switch-up from traditional brick-and-mortar schools to online schooling, De Roche says it is possible.
"Imagine not having to turn children away from the nearest or best school because the school is full. Imagine using the best maths teachers to teach all matrics in the country because they are all online."
"We need to focus on the competencies that should be taught and cultivated in schools to help future generations to withstand and adapt to the changes in the society, and the current and future tragic waves of pandemics.
"This may not require complete online schooling but blended ways of teaching and learning. We need to help learners survive different conditions, so that even in the absence of technology they can still thrive and be productive.
WHAT IS A 'VIRTUAL WORKSPACE?
A virtual workspace is a lot simpler than one thinks, it has no restrictions to a geographical location, specific hardware, devices or software. It is an easy way to collaborate and in most cases integrate all your business needs onto any device, in any location and at any time.
HOW CAN WE IMPROVE OUR EDUCATION SYSTEMS VIA ONLINE LEARNING?
A new way of enhancing the learning environment is through the Implementation of Virtual Reality. Virtual Reality is a relatively new technology that has taken over the world of eLearning at an incredible speed. The main reason behind VR in education is based on how the human brain functions. On an average, the brain is capable of remembering 10% of what students read, 20% of what they hear and about 90% of what is being done or stimulated.
BENEFITS OF TECHNOLOGY IN EDUCATION
When I graduated high school and attended tertiary education I was completely inundated with questions as to why the education system didn't better prepare us to be more computer literate and embrace technology. 
In my opinion the more teachers use traditional ways of teaching the more detrimental it will be on our youths development. We are living in a technology driven society and how can we expect our youth to be ready for this when we ourselves are questioning the very competence of these software's. 
The teachers and leaders and the adults who the youth look up too lack sufficient knowledge in these online solutions and the frustration spreads. The solution comes in training, maintenance and a continuous service level agreement which DataSciences provides. 
We are all human and fear the unknown, but I believe that the more we fight technology and look at the costs involved the less we end up getting anything done. We need to try to remember who we are putting first, the education of our future generation. 
Inuvika OVD Enterprise makes application virtualization easy. They focus on fast, effortless app delivery, versus the complexity, slowness and user agonies common to competing solutions. "Inuvika OVD Enterprise's brilliance lies in its simplicity and ability to work with existing infrastructure, while needing far less computing horsepower."

THE ONE MILLION DOLLAR QUESTION ANSWERED! INUVIKA SOLUTIONS FOR EDUCATION…
Do you feel as if the software you are limited to is doing the same to your teaching and education? Are you in need of a remote access virtual world? 
Today's education institutions are faced with a growing need to support remote learning and deliver programs in new, innovative ways.  OVD provides easier access to information, along with seamless collaboration beyond the classroom. This creates new opportunities for instructors to teach, and students to learn. Virtual Workspaces In Learning OVD Enterprise creates a foundation for remote learning using virtual workspaces.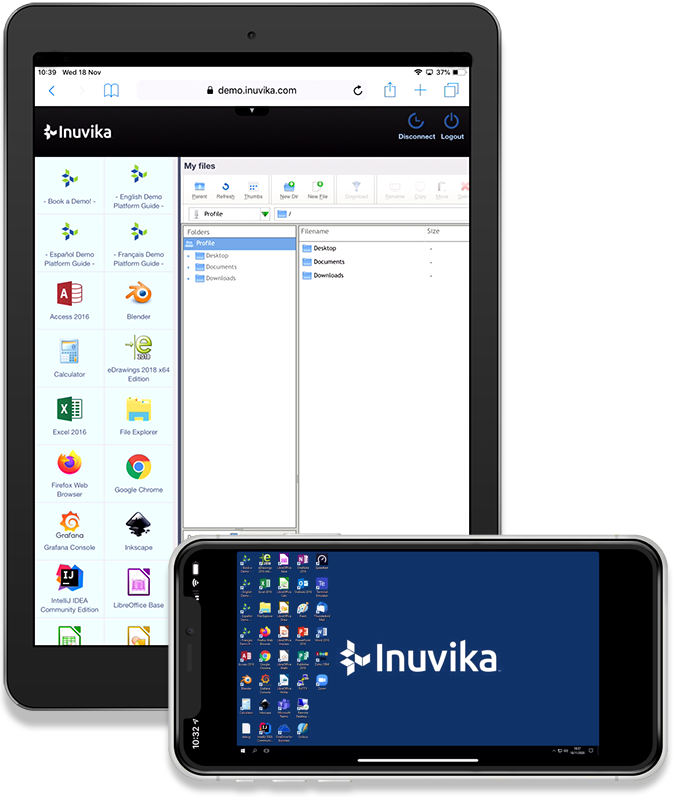 Invuika makes it easy with an integrated virtualized application and desktop delivery platform that gives institutions the ability to implement IT-based learning services while also lowering costs.
OVD centralizes Windows and Linux apps and files together and presents them to users within a familiar desktop interface or Web portal.  Regardless of whether users are on or off-campus, they can access their files and apps from any device, at any time, without a VPN.
LET'S LOOK AT SOME OF THE BENEFITS OF USING INUVIKA FOR ONLINE LEARNING
OVD enables on-demand access to resources and learning applications on any device including Windows, Linux, macOS, iOS, Android, Chromebook, thin clients, and any HTML5 Web browser.
No matter where staff and students work, or which devices they use, they will always have access to their apps, files, and group projects.
EMPOWER COLLABORATIVE RESEARCH
Keep sensitive data safe while providing collaborative virtual workspaces for both local and remote research staff. OVD Enterprise isolates applications and data within your cloud data centre, ensuring no data ever leaves its secure confines. Since no user data is transmitted to endpoint devices, research institutions can mitigate the risk of data loss and manage regular compliance.
LOWER INFRASTRUCTURE COSTS
Streamline PC management and reduce the cost of supporting traditional desktops by centralizing application delivery with OVD. Provision apps from a central console and reduce the need for support resources in the field. With the added flexibility of using low-cost devices like Raspberry Pi thin clients and Chromebook, education institutions can uncover and repurpose new savings.
THE NAMIBIA UNIVERSITY OF SCIENCE AND TECHNOLOGY FINDS EFFICIENCIES THROUGH APPLICATION VIRTUALIZATION WITH INUVIKA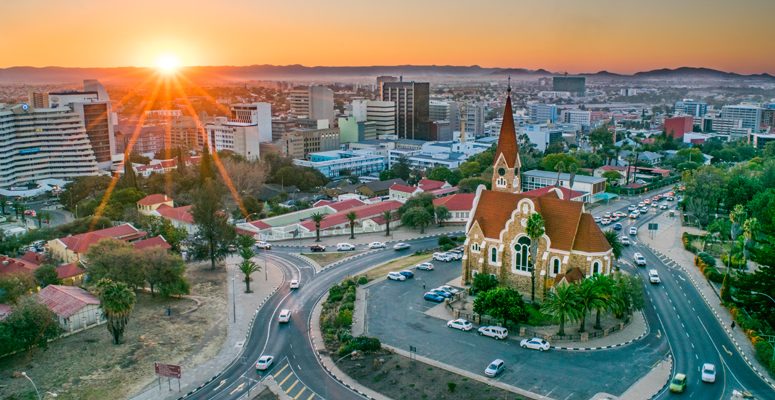 The Namibia University of Science and Technology (NUST) is one of the nation's two major Higher Education Institutions.  NUST has six faculties and 20 academic departments that offer undergraduate and postgraduate programs to over 14,000 students.  The university is widely considered the best Higher Education institution in the country.
Breyten Mouton is the Manager of ICT Services in the Department of Information and Communications Technology at NUST. The rapid growth in the number of desktop users, together with constant budgetary pressures began to threaten the department's ability to act proactively. More resources were being used for day-to-day support.  
None of the options generated the results that the team needed to see.
Maintenance and support costs for their VDI environment also proved too high in the end, so a change was needed. Another major challenge was to deliver new services with their aging mix of back end servers and storage. They required a new solution that would support them in the future, not just the present.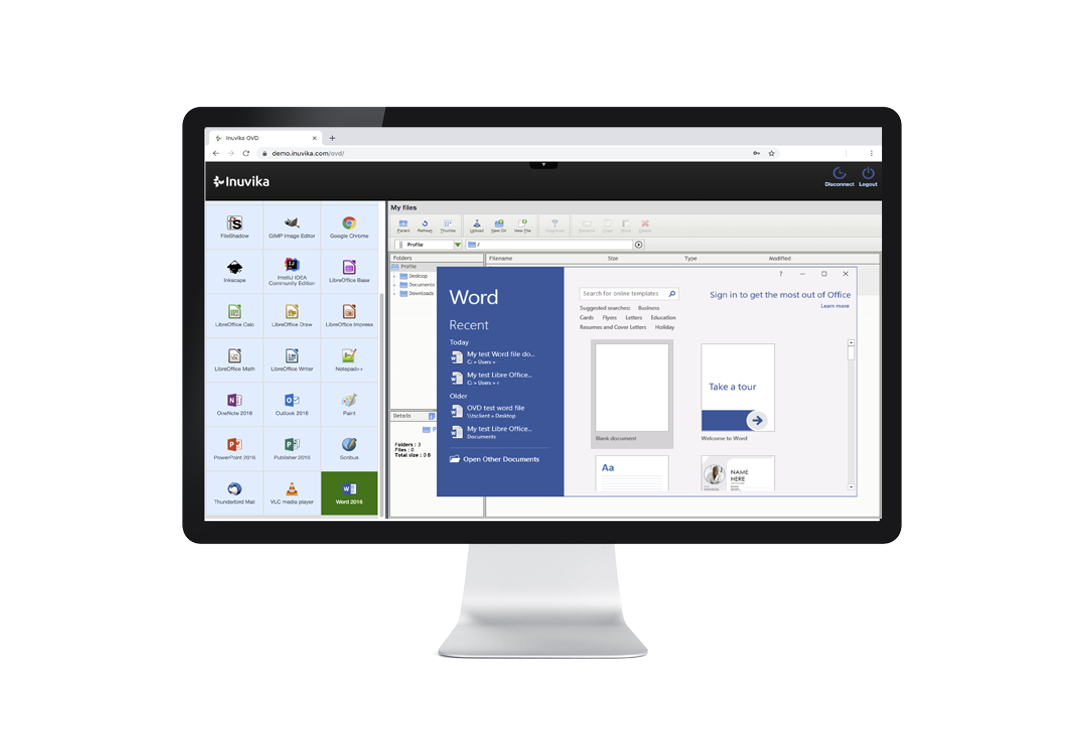 "Inuvika's solution was the best fit for our needs.  OVD not only addressed core application delivery but also represented an opportunity to lower costs and centralize management.  Also, there was added flexibility to introduce different devices, including thin clients."
– Breyten Mouton, Manager of ICT Service
Now, students experience the familiar look and feel of a Windows desktop on a low-cost device that is easy to deploy and manage. Read more
What Data Sciences Corporation has done is not only solved a current problem that many South African institutions face but they are safeguarding your future challenges within the IT industry. DataSciences Corporation always chooses people over products and only brings you the best technology that they have tried and tested!
School closures and face to face learning has been tilted upside down, thanks to our app developers, web developers, android apps and browser support we are now able to request access online and know our personal information is protected whilst being educated in a virtual reality (VR) setting. 
We not only provide you with the top technology solutions. So I guess you are asking yourself the question why Data Sciences Corporation? 
The simple answer lies in facts: at Data Sciences Corporation we train and staff 54 IT engineers who study all our partners' technology backwards so that they are able to INSTALL, MAINTAIN, SERVICE AND keep your technology up to date with the everyday challenges. DSC has 150 years of experience and over 85 South African enterprise satisfied customers. Data Sciences Corporation has you covered!
 We choose the people and are here to solve all your future IT challenges with sustainable solutions!