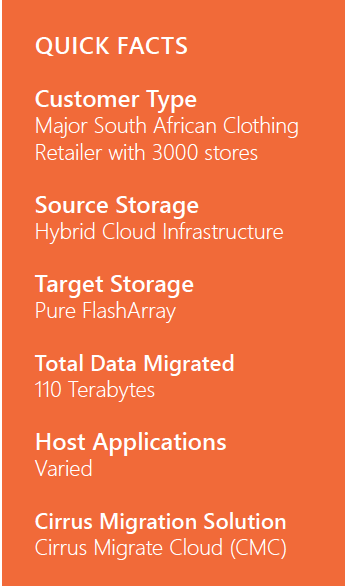 TFG (The Foschini Group), the leading specialty retail group in South Africa with 34 brands and more than 3000 retail stores, had 110TB of data contained on a hybrid cloud storage solution that was at end-of-life (EOL). The company had initially chosen the infrastructure to meet various application performance and capacity requirements since it was capable of caching locally the most in-demand data for superior performance metrics, whilst also allowing its considerable backup and archival data to reside in the cloud. 
When it came time to replace this EOL solution, TFG decided to repatriate all its data locally, to a Pure Storage on-premise all-flash array. Since all the data contained on its previous infrastructure was available locally on-demand, the migration project was initially attempted using an enterprise file-based migration tool. Unfortunately, the migration services team soon ran into permissions issues, trouble with open files, as well as interruptions during the copying of large files over to the new storage. These issues created a string of roadblocks that prevented TFG from completing the migration. 
After struggling with the file-based migration tool, the team decided to change its approach. The business and its storage services partner, Data Sciences Corporation (an existing Cirrus Data solutions partner), determined that with the EOL date rapidly approaching, they needed to work with a data mobility expert that could streamline the migration. 
TFG, through their partnership with Data Sciences, selected Cirrus Data Solutions to help make the migration to Pure Storage successful without extending the current infrastructure beyond its EOL date. Together, they decided that a block-based migration was the best solution to move the underlying raw data wholesale, whilst preserving all permission structures. Cirrus Migrate Cloud (CMC) proved ideal for this scenario, since it didn't require an onsite appliance. 
To demonstrate how Cirrus Migrate Cloud could efficiently move TFG's critical block data without problems or significant downtime, Cirrus Data completed a proof-of-concept with Data Sciences to show how effective it was to move a current volume to its new local storage with no appliances or switch-based SAN insertion needed. 
Data Sciences features a team of highly qualified storage engineers who were trained to use CMC, and Cirrus Data Professional Services worked hand-in-hand with them to expediate migration of the retail giant's data to its new Pure Storage array. 
During the course of the migration, Cirrus Data's data mobility experts and storage engineers worked with Data Sciences to identify and resolve the issues related to the hybrid cloud solution, with Data Sciences making sure the customer was alerted to any issue, however minor. Although the project took longer than initially projected, the customer was impressed by Cirrus Data's investigative team and even sent a special thank you via email once the migration project had completed. 

Very few data migration projects are perfect, but when your company's data is at stake, you always want to have the right team behind you to make sure nothing is lost, that there is no unnecessary downtime, and that any unforseen issues are resolved quickly.
Cirrus Data has published a number of thought pieces on our website in the Blog and White Papers sections discussing the hidden challenges of data migration. Even companies that believe they know everything there is to know about their own SAN infrastructure frequently encounter unexpected snags when attempting to move their company's data to newly purchased local storage or to the cloud.
Our storage experts have pretty much seen it all – storage with failing controllers and no support contract in place, vendors that have gone out of business whilst leaving their customers to fend for themselves, or even SAN environments that have flaky or missing paths that were previously not detected. No matter the challenge, Cirrus Data brings decades of storage expertise to even the thorniest of migration projects, and the one detailed here is no exception. 
CHALLENGES
Hybrid cloud infrastructure contained data in different locations; hot data on local SSD, colder / less frequently accessed data on local HDD, and archival + backup data in the cloud
Hybrid cloud solution had reached end-of-life and needed to be removed
Previous (pre-Cirrus Data) attempt at migrating data using enterprise file migration tools had not been successful, with various issues encountered
SOLUTION
Cirrus Migrate Cloud (CMC) provides block-level migration, preserving all file-level permissions
CMC's Host-based deployment is agnostic to local or remote data – as long as the client host can access the block data, it can be migrated
cMotion allows immediate cutover to new storage if desired
RESULTS
Cirrus Data conducted successful proof-of-concept on a TFG volume
Cirrus Data Partner, Data Sciences, migrated data successfully onto new Pure Storage array
Cirrus Data worked to resolve non-CMC storage issues as needed
TFG gave the Cirrus Migrate Cloud solution and Cirrus Data high marks and sent follow-up emails praising Cirrus Data's support team