Businesses have relied on IT to help them achieve their goals, enhance communication, process and analyse data for business/market insight and competitive advantage.
The benefits organisations have seen with integrating and having dedicated IT functions within their businesses is insurmountable, and thus more and more organisations are using technology in all areas of their businesses, from business operations, processes and models, culture and customer experiences.
Augmenting and transforming technology, how it's used, and its benefits was the introduction of cloud computing with which organisations are able to adapt and respond to unpredictable business and operational demands quickly and easily.
Cloud changed the way businesses consume IT resources and has a significant impact on cost by replacing capital for operation costs, providing infinite on-demand scaling quickly as business requirements change, for increased performance and competitive edge.

Since the introduction of computers, technology has not only advanced in offering, capability and use, it has become an integral and crucial part of society and business.
At the heart of technology is change, innovation and disruption. At the heart of storage technology, is Pure Storage.
Founded (Since their emergence) in 2009, Pure Storage has disrupted the storage sphere by being one of the earliest companies to leverage SSDs for enterprise storage – delivering all the performance benefits of flash storage at a competitive price with an all-flash storage array that is simple to deploy, use, manage and upgrade non-disruptively.
Emerging around the time advancements in MLC technology reduced the cost of SSDs enough for them to be used as alternatives to spinning disks, Pure Storage designed and built their storage array on flash technology, providing them with an advantage over their competitors who had to adapt and redesign their current hard-disk technologies to utilise flash – inhibited by the design rules and principles of spinning disks.
True to their disruptive and bleeding edge nature, Pure Storage has announced their latest storage game-changer: Pure Fusion.
Pure Fusion allows organisations to transform their enterprise storage infrastructure into a cloud-like model boasting all the benefits of Cloud Storage, such as instant resource allocation, rapid deployment, limitless scale and on-demand self-service, giving your business competitive edge and allowing you to keep up with business demands.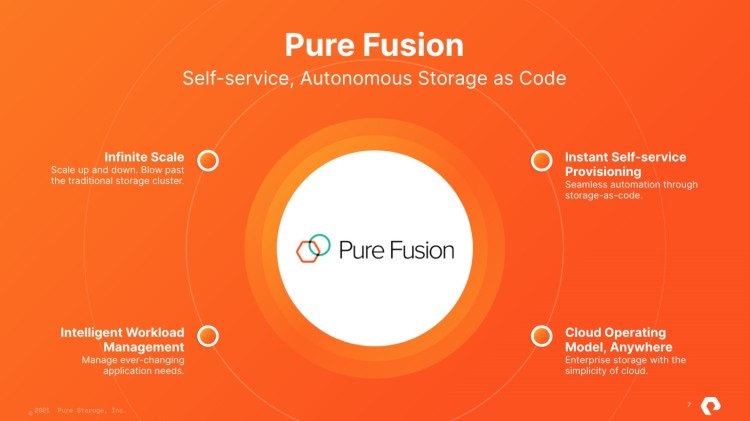 Managing storage allocation and performance between applications and business units is complex, powered with AI, Pure Fusion automates storage management operations by intelligently allocating, placing and adjusting storage resources – migrating and rebalancing them as your business and application demand without manual intervention to meet your performance objectives.
It is a software innovation that combines the performance and security benefits of on-prem enterprise storage with the scalability, speed and agility of cloud storage – eliminating traditional storage provisioning limitations and bottlenecks.
With Pure Fusion – a software as a service management layer, you can interconnect/consolidate your entire Pure Storage landscape (FlashArray, Pure Cloud Block Store, FlashArray PaaS, and Portworx) into a single storage pool regardless of size, location and media type. Data Admins can set up their own storage services with easily managed tiers, developers and end users are then able to provision or reduce their own storage resources via an API configured and enabled by their own software.
Despite the undeniable business and performance benefits of Cloud, security, cost and compliance concerns dissuade companies from fully utilising public cloud solutions resulting in the adoption of hybrid cloud models.
Building a simple yet powerful hybrid cloud is easy with Pure Fusion. The solution officially released by the end of the year, stay tuned for more details and information on how you can innovate with Pure Fusion!
Evolve your storage, evolve your business.